Books & Poetry
Our book section contins a number of titles written by survivors of abuse, or those who have worked with survivors. Many of the titles are also available as Ebooks. See below:

Excerpts
Behind These Eyes (Poetry)
Click here to hear Saffie Read 'Dear Nurse'
Click here to hear Saffie read 'Violence is Preventable'
Ebooks
To view an ebook, you must first download the free dnl reader. This is similar to acrobat reader and allows you to view ebooks. You need only download this once. Click here to download the reader.
Once the reader is installed on your computer, you can view the Ebook samples featured below. You will see a few sample pages.
If you wish to purchase the full ebook, follow the on screen instructions.

Who Dares Wins
This book is aimed at workers who may come into contact with survivors of ritual abuse. It is intended as a basic information resource. Covers issues such as: feminism and ritual abuse, supporting survivors of ritual abuse, children and ritual abuse and a survivor's perspective.

Where Angels Fear
A sequel to Who Dares Wins. This book is written with sensitivity and knowledge and is successful at explaining difficult issues. It is written in plain English and does not sensationalise ritual abuse. This book is a practical and informative guide

Be aware
This book is a must for anyone in contact with young survivors. It contains a wealth of useful information and experience of working with young people and how to support them in their recovery.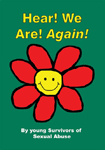 Hear! We are! Again
A book of poetry written by young survivors of sexual abuse.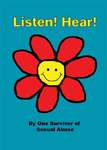 Listen! Hear!
A book of poetry written by one survivor of sexual abuse.